HCD picks: London's best buildings
We love buildings. Bricks. Mortar. Windows and doors. And although we spend a lot of time looking at our own developments, it's hard to miss some of the incredible architecture around us in London.
To kick off our new journal series, 'HCD picks:', we thought we'd share our current favourite buildings and why we like them.
They say you can't judge a book by its cover. But can you judge a person by their building choice? Let's find out.
Battersea Power Station, Wandsworth
Jonni Mott, Commercial Lead
"I love the art deco interior and finishes. I was given a tour of the station a few years ago and was amazed by the sheer size of it – it's still the largest brick building in Europe."

The Lighthouse Building, Kings Cross
Ben Lampert, Head of Construction
"Not my favourite building in London, but in terms of at the moment – I think the restoration has been done exceptionally well – considering how it's looked ever since I remember up until a couple of years ago, when the refurbishment was completed. Additionally, it sits directly on two underground tunnels so required some serious engineering! It is also very near to one of my other favorite buildings, St Pancreas Renaissance Hotel."
St Pancras Renaissance Hotel, Kings Cross
Jonathan Ellis, Managing Director
"The scale, the detail, design and the intricacy – also the way in which they managed to build a building as grand as this in the 1800's is astonishing!!"

The Concept Clubhouse at Rowley Lane, Arkley
Max Kyte, Head of Land & Planning
"The future of Maccabi football lies within it."
The Tate Modern, Bankside
Dimitrios Dakos, Senior Design Manager
"(Formerly Bankside Power station) by Sir Giles Gilbert Scott and subsequently its reincarnation as an art gallery by Herzog & de Meuron. For me the Tate is one of the rarest buildings in London. It is an incredible structure that illustrates what designers should strive to achieve, even in the most unfavourable conditions."
Sir John Soane's Museum, Lincoln's Inn Fields
Shirley Gentry, Procurement Manager
"Both the architecture and collections of art and antiquities are amazing. A must-see if you can."
Kenwood House, Hampstead
David Kyte, Chairman
"Built around 400 years ago it's an exceptional piece of architecture and surrounded by 100s of acres of beautiful grounds. Whether running, walking, playing with a frisbee with dogs, kids, family or friends, it really is a special place and a little piece of tranquility in the heart of the hustle and bustle and pace of London."
Trellick Tower, Kensal
Rhydian Hoogewerf, Site Manager
"It was designed by Erno Goldfinger. (Ian Fleming based the villain character Goldfinger on him and Trellick has a villain HQ look about it.) It always makes me laugh."
The Maughan Library, City of London
Natalie Smith, Brand Manager
"It's beautiful from the outside and the inside. I've always loved the intricate details of older buildings – it's Grade II* listed, neo-Gothic and built in the 19th century. Inside, there's a dodecagonal reading room, which means 12 walls of books. What more could you want? Apparently, it's influenced by the British Museum's reading room which would be my first choice, however, it's not open to the public anymore and all the books are elsewhere."
The O2 Intercontinental, Greenwich
Michael Jonas, Accounts
"The hotel is deserving of its 5 star rating and is arguably the best hotel in London. The décor of each room is both modern and of its own unique style. The spa facilities are in one word 'amazing' and the structure and layout of the in-house restaurant is aesthetically pleasing. The rooms totally use the location to their advantage, showing of the beautiful river and city views. Few buildings manage to match the scale and visual prestige of the Intercontinental."
20 Fenchurch Street, City of London
Marta Skowronska, Head of Accounts
"This is one of my favourite skyscrapers in London. It's been nicknamed "The Walkie Talkie" because of its unique and distinctive shape. When you stand underneath the building you feel like it's about to fall on you. The most interesting part of the building is of course the Sky Garden. It's London's highest public garden designed by an award-winning landscape architecture practice. Sky Garden offers a  breathtaking 360 degree view from its 35th floor location with access to air terrace, restaurant, bars and live music. It gives a rare chance to experience London from a different view."
M by Montcalm, Shoreditch
Austin Lipman, Land Buyer
"I love the way the architects have played with perspective and perception to trick the eye as you drive towards it."
The British Museum, Bloomsbury
Jordan Sharifia, Property Manager
"Built in characteristic Greek-style architecture, the façade facing Great Russell Street gives the British Museum a unique personality and character. I really like how this contrasts with the modern interior of the Great Court with its tessellated glass roof."
The Alexandra Palace "Ally Pally", Haringey
Benjamin Olafsson, Construction Manager
"Wonderful views over London, surrounded by a beautiful park. The building itself is iconic and offers awesome gigs, beers, food and events."
The Barbican Estate, Farringdon
Megan Walden-Jones, Design Coordinator
"I love the variance in scale, the complex relationships between the buildings and landscape, the changing levels etc. It's one place which, however many times I visit, I always get slightly lost. It's a great example of balancing public and private places. The atmosphere of the place is full of life with cafes, the theatre and galleries, cinema and studios, sitting spots by the river and private flats all while acting as a pedestrian route through the city. The architecture is honest and classic brutalist, but it's also playful and surprising."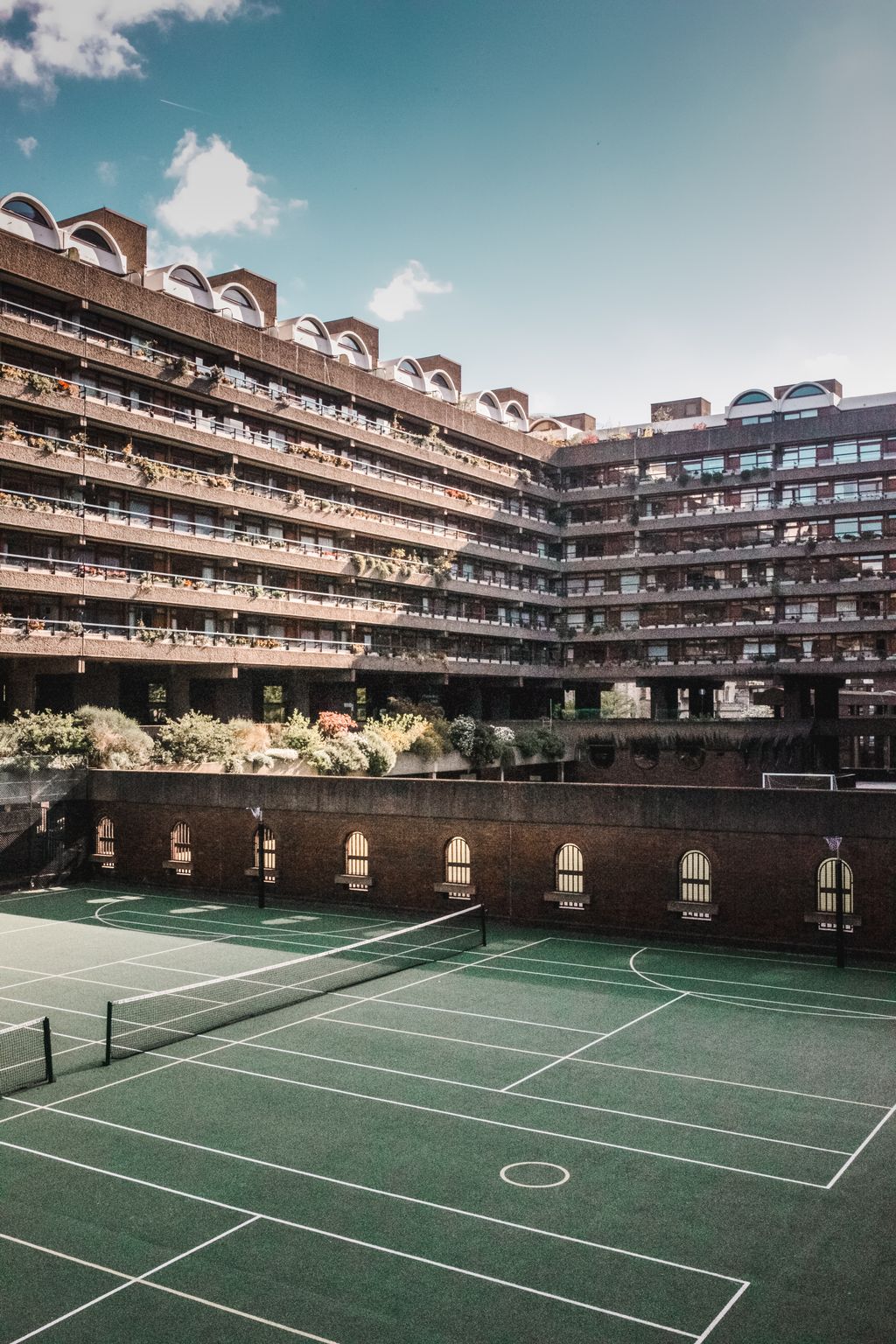 Image credits:
Battersea Power Station: By Andystutch (Own work) [CC BY-SA 3.0 (http://creativecommons.org/licenses/by-sa/3.0)], via Wikimedia Commons
St Pancras Renaissance Hotel: By LepoRello (Own work) [CC BY-SA 3.0 (http://creativecommons.org/licenses/by-sa/3.0)], via Wikimedia Commons
Tate Modern: CC BY-SA 3.0, https://commons.wikimedia.org/w/index.php?curid=486315
Kenwood House: By Panhard – Own work, CC BY 2.5, https://commons.wikimedia.org/w/index.php?curid=7195917
Maughan Library: By FormerBBC – Own work, CC BY-SA 4.0, https://commons.wikimedia.org/w/index.php?curid=44602031
Date
Category